Welcome to Sunray, Inc., where the finest quality urethane products are manufactured to your precise specifications. We specialize in providing industry-leading solutions to meet your most challenging problems, and we back this capability with outstanding customer service and competitive pricing. Sunray seeks to surpass customer expectations with the performance of our polyurethane products and services.

As you visit our site, note that urethane and polyurethane are used interchangeably throughout our website. While the number of urethane compounds we produce is virtually limitless, we are experts at finding the perfect cast polyurethane formula for your specific application. And with our CNC Lathe and CNC Milling capabilities, we provide an optimal solution, one expertly crafted and conceived to meet your specific objectives.
In fact, our product forms enable you to design specific urethane castings, such as urethane wheels, urethane rollers, pipe rollers, v groove wheels, dunnage, flanged wheels, and heavy duty casters. We provide solutions quickly and efficiently.
Our recovering service is a great way to reduce cost. We can refurbish your existing cores in about half the time. Your product will be better than new as you help with keeping your company green by recycling.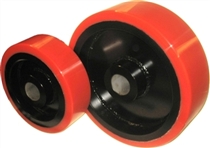 Visit our online store for high quality tailor-made urethane products built to perform and last. Shop online for casters, heavy duty wheels, ball bearings, polyurethane sheets, polyurethane rods, polyurethane tubing, covered bearings, and many more.
We offer technical support that is second to none. We can perform chemical analysis, and predict theoretical life of a wheel or roll. We can also supply the load capacity based on material choice, and predict coefficient of friction.
Thank you for visiting Sunray! We look forward to meeting your needs for polyurethane products, and services.

Free Technical Assistance!


Modern American Manufacturing Facility.
Trusted Since 1978. Fully Guaranteed.
Buy Standard Sizes Online or Made To Specs.
Design Help & Quick Quotes: Online / Phone.
CNC Lathe and CNC Milling Capabilities.
Any Size, Hardness, Capacity, Style, Color...
Made in U.S.A. Premium Components.
Quantity Discounts! Expert Service!



Thank you as always for your very prompt responses - I wish more companies worked like Sunray!
~ Jim A.
The shipment just arrived, and I must say, that your product is the best quality of any on the market.
~ Sincerely, Matt H.
I must say your company did a fantastic job on my rollers. I'm very happy with them. I would like to express my heartfelt Thanks to you and your company. It's nice to know that a company in this fast paced economy has time to accommodate the small customers as well as the large clients. This is truly refreshing to see in America.
~ Sincerely, Chris M.