Looking for idler rollers for material handling and conveyor applications?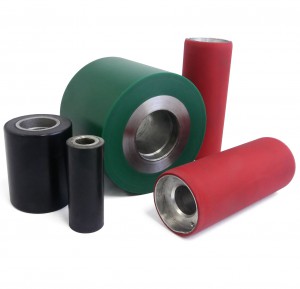 Looking for idler rollers for material handling and conveyor applications? You've come to the right place! Sunray, Inc. has a large selection of idler rollers and can help you find the equipment roller you need for most any application.
Sunray, Inc. manufactures polyurethane rollers suitable for light, medium and heavy-duty industrial applications. With a little information about the required roller speed and load capacity, Sunray can recommend the best type of idler roller or conveyor roller for your needs.
Sunray's high quality polyurethane idler rollers offer excellent shock absorption, reduced vibration, smooth operation and extended wear resistance. Idler rollers are produced from durable polyurethane treads, and roller journals can be machined to specific tolerances to fit precision bearings.
When selecting an idler roller or equipment roller, it's important to take the following factors into consideration:
Roller Load Weight
Roller Speed
Environmental Elements (i.e. Abrasive/Corrosive Elements)
Polyurethane rollers are able to withstand high temperatures and are renowned for their anti-corrosive properties. For assistance in selecting the right polyurethane idler roller to use for a specific application, give Sunray's knowledgeable staff a call at 1-800-833-9960 or email the help desk at info@sunray-inc.com.
Need a Drive Roller? Click Here.
In addition to manufacturing new rollers, Sunray, Inc. also manufactures replacement rollers, and performs roller recovering and retreads. In most cases, Sunray can refurbish polyurethane rollers for less than the cost of buying one new!
Have an application that requires a custom idler roller? Sunray, Inc. is capable of precision machining custom polyurethane rollers in a range of diameters and lengths, with many different tread, bearing, axle and hardness options, including custom: flange, grooved and extended hub rollers. Custom idler rollers can be manufactured from a product description, supplied samples, or a technical drawing.
For an ultra-fast quote on a custom polyurethane idler roller, simply UPLOAD YOUR DRAWING FILE HERE, or fill out the form below and click submit.