Online Store
Order Parts Online
Heavy-Duty Wheels For Your Application!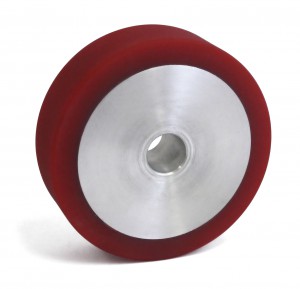 Sunray, Inc. uses only the highest quality polyurethane available. Our polyurethane is chemically bonded to the metal, giving you a reliable wheel that outperforms those offered by our competitors. Our drive wheels are built to be dependable and last!
We machine all of our drive wheels from solid 1144 steel or 6061-T6 aluminum, and cover them with the highest quality polyurethanes on the market!
First step is to choose the size of your drive wheel. Then you can choose the color and desired hardness of the tread, select your core material, choose the diameter of the wheel bore, and select whether you want the industry-standard keyway and setscrew.
Sunray, Inc. keeps the raw materials required to manufacture your drive wheel in stock. We will manufacture wheels to your exact specifications, giving you a higher quality drive wheel than "off –the shelf" wheels, and at a comparable price!
Wheels Are Rated To 800 Rpm. For Pulley Applications or Higher
RPM Requirements, Please Call For Assistance: 1-800-833-9960
"Wheels Ship In 10-15 Business Days Or Less!"*
Click Here for Load Capacities    How to Order Wheels
To Order, Click on the Size you Need. Quantity discounts applied in cart.
Don't See The Size You Need? Click For a Quick Quote!
OEM PRICING AVAILABLE!
CALL 1-800-833-9960
Our staff is ready to help. Call M-F, 8am-5pm ET 1-800-833-9960
or email us at info@sunray-inc.com for the best customer service the industry has to offer!