CNC Lathe Services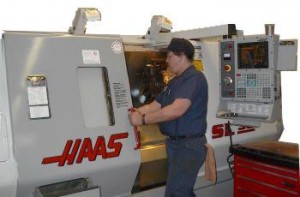 Sunray offers CNC lathe services and precision CNC machining of polyurethane wheels, rollers and parts. Utilizing multiple Haas CNC lathes, Sunray's advanced CNC turning, boring and milling centers can accommodate almost any size wheel, roller or part.
Sunray's in-house precision machining capabilities allow for a 100% production of polyurethane parts from start to finish, including the machining of custom steel or aluminum:
Hubs
Inserts
Cores
Bearings
Bushings
Sunray's Haas CNC lathes are also capable of turning and milling cast polyurethanes for use as prototypes or in limited production runs. Because urethanes have a lower thermal conductivity than metal, they are prone to softening, melting and distortion during machining. For this reason, urethane parts with a durometer of 90A and higher tend to have a better degree of machinability. For parts that require tight tolerances and a smooth finish, CNC milling is recommended over lathe machining.
With Sunray's CNC lathe services, you can rest assured that your polyurethane wheels, rollers and parts will be machined to your exact specifications efficiently and accurately. CAD drawings will first be rendered of your part and checked for quality. Your part will then be machined using the high-speed and accuracy offered by Haas CNC lathes.
Use the form below to contact Sunray now for pricing on your design!
You can also Upload Your Drawing File Here, for an ultra-fast quote.