Online Store
Order Parts Online
Sunray's versatile Polyurethane Bars are the ideal solution for your immediate needs.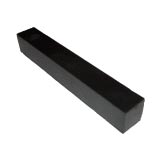 Our resilient and strong polyurethane bars can be used in a variety of applications and are available in an assortment of Durometers, such as: 60A, 70A, 80A, 90A & 95A, and many more! They come in a variety of colors and are custom-cast to your specifications. Please allow up to 10 business days for your order to be processed.
Upload Your Drawing Files Here!
Minimum Order $100.00 USD
Tolerances: Length +.25″, Square +.050/-.020″
Durometers: 60A, 70A, 80A, 90A, 95A & MORE (Click HERE for an explanation)
Click on the size to order!
Don't See The Size You're Looking For? Click Here.