Sunray, Inc. is a leading manufacturer of molded polyurethane and urethane parts.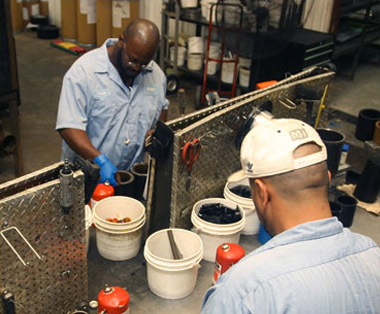 We are capable of mixing and producing an infinite number of polyurethane compounds, and offer some of the most advanced manufacturing capabilities available, including custom molding and machining.
Polyurethane Compounds: We can precisely mix prepolymers with curatives to produce polyurethanes ranging in durometer from 5A (extremely soft) to 75D (extremely hard). Pigments can be added to polyurethane compounds, as well as anti-static additives to reduce electrostatic damage to sensitive components. We process polyether and polyester formulations in TDI, PPDI, and MDI backbones.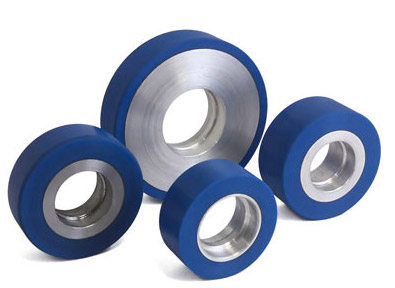 Polyurethane Molds: We can cast polyurethane parts directly from existing molds or custom molds. Custom molds can be produced from aluminum, steel, or polyurethane to produce quality parts with fast processing times. Some of our most popular molded polyurethane products include: wheels, bearings, gaskets, seals, and rollers.
Machining Polyurethane Parts: In addition to molding parts, we can machine custom parts based on specified dimensions. Master parts are machined from polyurethane sheets, rods, bars or tubes, using the latest CNC Lathes & CNC Vertical Machining Centers. Our high-volume automated polyurethane dispenser makes large production runs a breeze!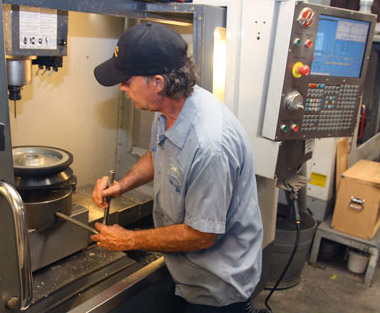 CNC Machining Capabilities: We utilize two HAAS Vertical Machining Centers that allows our expert technicians to precisely mill molds, bores, shapes and other technically-challenging items with ease. The tool turret can quickly change inserts to speed up production.
We also utilize the HAAS CNC SL-30 turning center and the HAAS CNC SL-10 turning center at Sunray, Inc. These heavy-duty, American-made turning centers combine innovative design principles and unique control features. Producing high-quality machined parts, the HAAS CNC SL-30 ensures our customers receive only the finest machined components. The Bar-Feed Interface speeds up production, lowering customer cost and achieving quicker turnaround.
Lathe Capabilities: Our ACRA Heavy Duty Precision Lathe is capable of handling rollers up to 31″ in diameter and 160″ in length. With this machine, we can process your large industrial rollers quickly.
We also utilize four HAAS Toolroom Lathes, which offer a quick set-up and ease of operation, to machine your parts quickly and with high accuracy.
Whether you require a polyurethane wheel to withstand heavy loads, a roller that will endure higher than normal speeds, or custom parts capable of withstanding temperature extremes and chemical exposure, Sunray, Inc. has the capabilities to manufacture the part you require!