Band Saw Wheels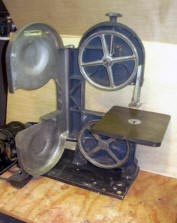 Buy Heavy-Duty Wheels at our Online Store!
Is your bandsaw blade slipping? Is the tread on your band saw wheels crumbling or tearing? Don't spend a fortune on complete replacement wheels! Sunray, Inc. can remove the old, worn tread on your wheels and recover with high-quality, durable and performing Polyurethane. Our treads typically outlast rubber three to five times and will give you the performance you expect. Call 1-800-833-9960 for pricing.
At Sunray, Inc. we build our products to last!
Fill out the form below for a fast quote on recovering your bandsaw wheels or call 1-800-833-9960 to speak to a representative.
You can also upload your drawing files here.