Online Store
Order Parts Online
Heavy-Duty V-Groove Idler Wheels For Your Application!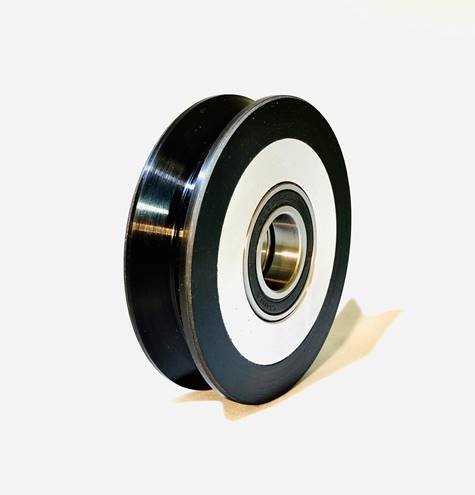 Using the highest quality polyurethane available, chemically bonded to metal, Sunray, Inc. can give you a dependable wheel that outperforms our competitors. These wheels are built to last!
Sunray's Idler Wheels with Bearings are machined from solid 1144 steel or 6061-T6 aluminum, treaded with the highest quality polyurethanes available!
Once you pick your size, you can choose the hardness/color of the polyurethane tread, core material, the inside diameter of the bearing(s). All of our V-groove wheels come standard with a 90° groove centered in the wheel and the depth of the groove can vary depending on the wheel diameter and width. If you need additional information on dimensions or require a custom groove angle or even u-groove profile please email info@sunray-inc.com or call 800-833-9960.
We stock the raw materials and manufacture your wheel to fit your exact application or need. This means you can get a much higher quality product than "off-the shelf" wheels at a comparable price!
Wheels Are Rated To 800 Rpm. For Pulley Applications or Higher RPM Requirements,
Please Call For Assistance: 1-800-833-9960
"Wheels Ship In 10-15 Business Days Or Less!"*
Click Here for Load Capacities    How to Order Wheels
To Order, Click on the Size you Need. Quantity discounts applied in cart.
Need A Heavy Duty Drive Wheel?
OEM PRICING AVAILABLE!
CALL 1-800-833-9960
Our staff is ready to help. Call M-F, 8am-5pm ET 1-800-833-9960
or email us at info@sunray-inc.com for the best customer service the industry has to offer!