CNC Milling Services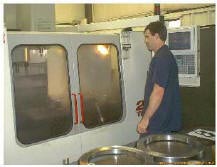 Sunray offers the latest in CNC milling services, tooling and mold making. Sunray's advanced CNC milling centers are capable of producing high-quality, machined polyurethane components to your exact dimensions.
CNC lathe milling is the ideal solution for sculpting cast polyurethane components into specific sizes and geometries. Sunray's CNC milling machines are capable of cutting and drilling into polyurethanes along multiple axes to create a variety of shapes, including dimensions that are not otherwise possible with manual tooling methods.
Because of their low thermal conductivity, milling is generally not recommended for polyurethane components with durometers below 80A.
Sunray's horizontal and vertical CNC milling machines can manufacture polyurethane parts with tight tolerances, intricate details and a smooth finish. Combined with Sunray's custom part molds, in-house CNC milling centers make Sunray a one-stop shop for polyurethane and urethane part production.
With Sunray's CNC machining services, you can rest assured that your polyurethane wheels, rollers and parts will be machined to your exact specifications accurately and efficiently. CAD drawings will first be rendered of your part and checked for quality. Your part will then be machined using the high-speed and accuracy offered by CNC milling.
Send Sunray your technical specifications and let us supply you with high-quality milled parts!
You can also Upload Your Drawing File Here, for an ultra-fast quote.